TEETH WHITENING
'Thankyou very much for your friendly service my teeth are looking whiter then I thought they would be and I can't wait to use my gel pen to get them even whiter!'
- Amelia Haggery
' I have been using the home whitening system for the last 2 weeks and my teeth are alot whiter, it has worked alot better than I thought and my teeth feel great. Kelly makes it so simple with her online store when I need to order more I can just purchase online and have it sent out. Thanks Kelly!'
- Sarah Collings
'Thanks Bellabody Christchurch for the teeth whitening treatment! My gosh i feel like a new person never thought my teeth would come out so white again! Thanks a million...great service too!' -Cherie Diedrichs
'I have had my teeth whitened before at Bella Body. I have received two treatments and brought a treatment for my mum for mothers day. I love the system. It's quick, painless and results are instant. I would defiantly go back for other treatments'
-Jackel Aitchison

'I recently had my teeth whitened at Bella Body and was amazed by the results. Having been a smoker for many years with stained yellow teeth it was incredible to see the difference after a treatment. I now have much whiter teeth and would recommend this treatment to everyone'
-Peter Plumsted

'I have had my teeth whitened at Bella Body and also done Personal training with Kelly, she is a lovely person to work with and awesome results. Would definatley recommend her to anyone'
-Jo Hurrell
'Thanks, I'm very happy with the result!' -Delarene Flawn
'I had my teeth whitened by Bellabody and I noticed a difference straight away after the 20 minutes. I am really happy with the result.' -- - Paige Smith
'The non - peroxide treatment amazed me. My teeth whitened 15 shades with two 40 minute treatments and it was so simple and easy. I didn't feel a thing. Thanks Bellabody for making me more confident (I now love smiling!) and your team is just fantastic.' - - Brian Brae
'Thanks Bellabody for helping me find a product that actually works and is gentle enough for my sensitive teeth. I've been using daily white for 9 days now and can already see such a difference!' -- - Lilly Clarke
'I've just got my wedding photos back, thankyou so much, my teeth look fantastic!!! ' - Sarah McDonald
'Daily White is truly an amazing product. I've been using whitening tooth paste for over a year and I don't really see a difference. After brushing with Daily White for 4 weeks I can now see why it was worth spending a little more money. I will never waste my time with whitening tooth pastes again' Alex Hamilton
'Best Teeth Whitening in Christchurch! The girls at Bellabody are experienced, realistic with there pricing and always accommodating with appointment times sometimes even after hours. I traveled from Timaru to have my Teeth Whitened as I had heard only good things and they even made me a coffee when I got there to have before my appointment because I had not had time to have one along the way during my road trip. My teeth are superb, I can't believe how much they whitened in one treatment. Thankyou girls!'
- Rosie Cooper
'I am so thankful for this Teeth Whitening range, my teeth were never white and fresh looking as a kid and my Mum used to always ask me if I had brushed my teeth! Now I whiten my Teeth once every year and use the touch up pens to maintain the whiteness if they fade abit during the year'
-Kelly Gilbertson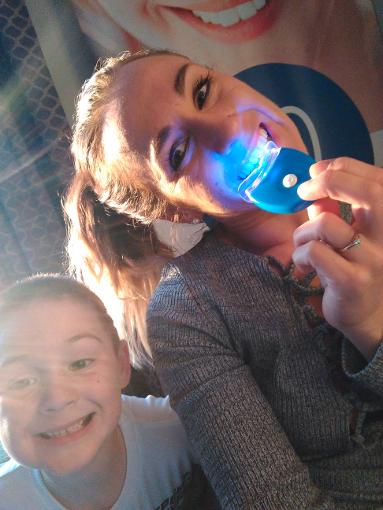 A few before and after pictures from 1 hour treatments.......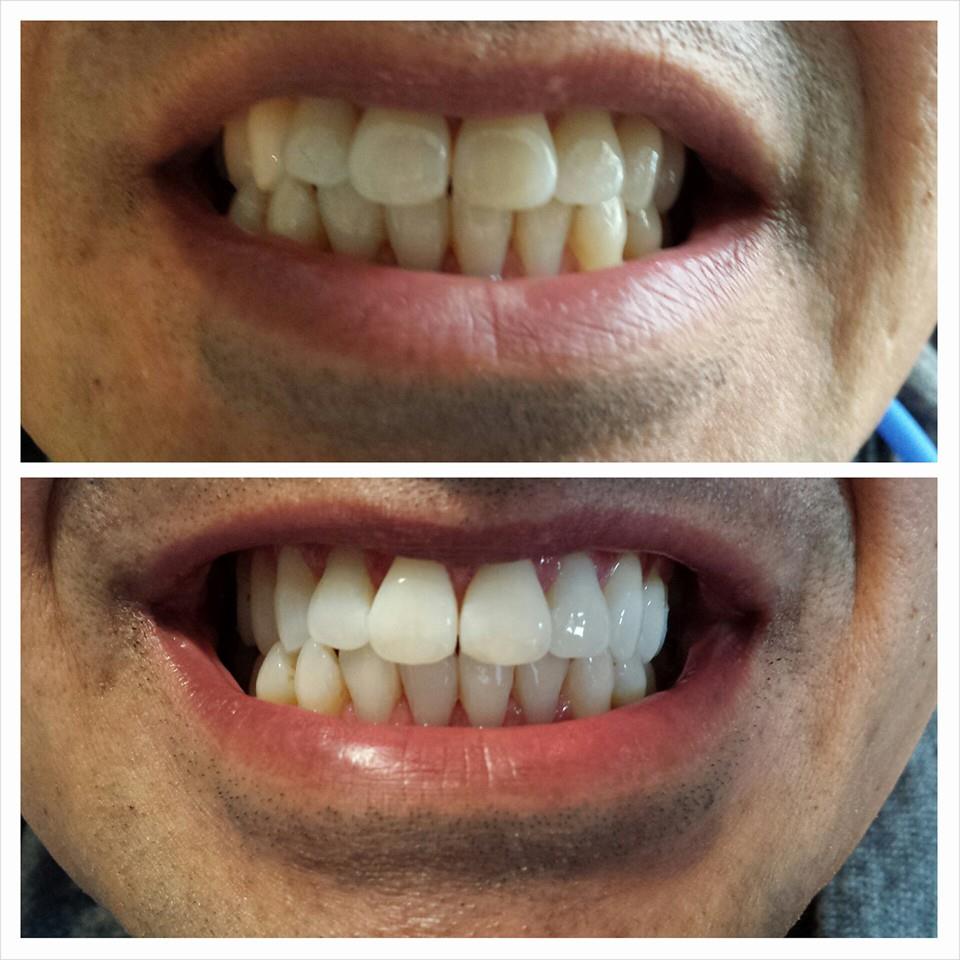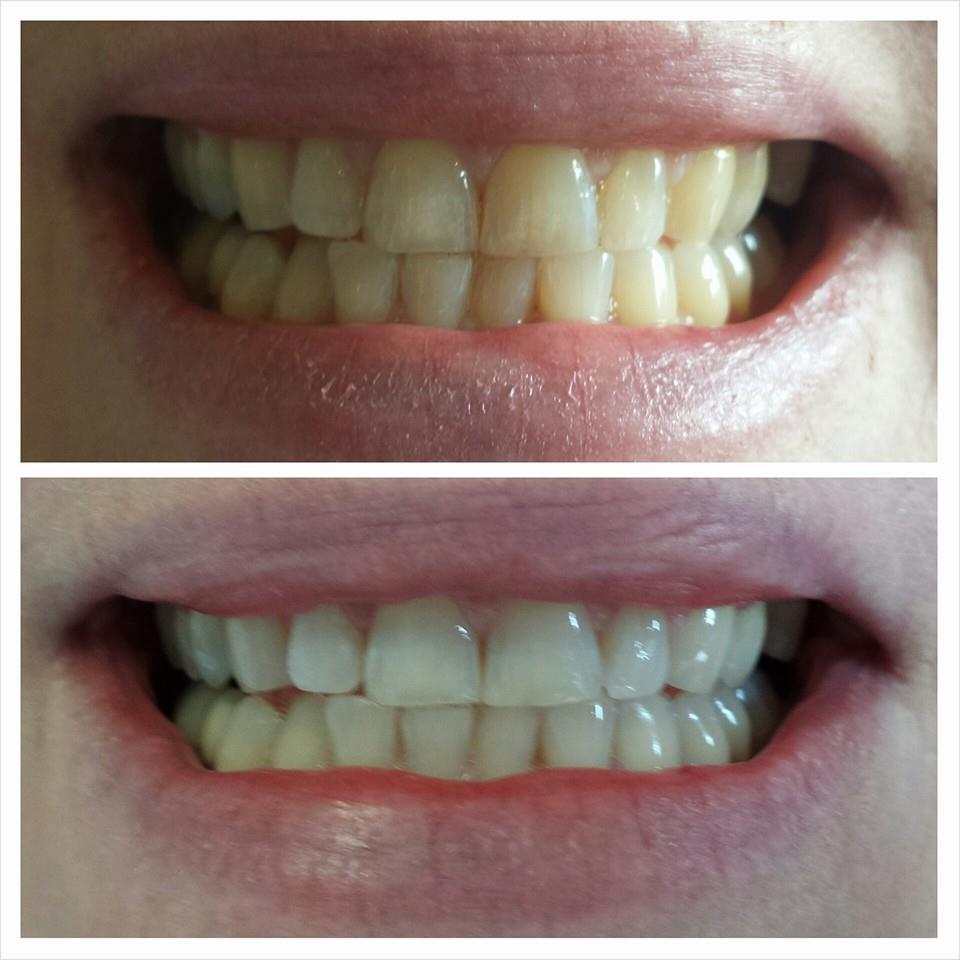 FITNESS
'After a couple of years of niggling injuries I was looking for a motivational trainer to help me improve my fitness. Kelly is very knowledgeable and skilled at what she does, and is always professional and enthusiastic. She switches up the workouts every time so they are always different. I've seen a difference in my body since working with Kelly, but more importantly I have seen a difference in my attitude towards exercise. She has really inspired me to make health and fitness a priority in my life, I recommend her without any hesitation.'
- Janine Clarkson
'I'm very happy with my training sessions with Kelly, she always keeps it interesting and has different exercises so it never gets boring. It's very motivating as she records my results so we can see improvement month after month. She is bubbly, encouraging and easer to help with exercise and diet, she covers all bases and is very flexible if I need to change around training times, thanks Kel! '
- Tracey Bond
'It's hard to say in words or put a measure on something that has simply changed your everyday outlook to be one that you can't wait to wake up to and take on your day. After many years of neglect it feels amazing that we now feel like there is a whole new us. We did the 8 week challenge and lost over 20 kilos between us. We have some more milestones to go and with Kelly's positive fun coaching it doesn't seem like a task and rather a want to improve. What we didn't expect was the savings and how much we spent on takeaway and buying our lunch. It's cheaper to have a fun class with kelly that buy your lunch and wow we have made some new wonderful awesome friendships. Working in a group I thought I might feel uncomfortable, but instead I can't wait. I Get goosebumps thinking how I could have missed this opportunity to do a life changing 8 weeks. Highly recommend you give yourself this time and see this as a treat, the amazing people you meet and kelly at the realm and if you really want to lose weight, you will. We did and we haven't finished yet. Thank you Kelly, your amazing.'
- Rachel Collins
'I can see and feel results like I've never felt before!'
- Victoria Alexander
'When I think of Kelly I think dedication, motivation, inspiration! Kelly having children herself and being in such amazing shape inspired me that I could do the same. Our training sessions are always filled with hard work and loads of fun. Kelly has provided me with all the tools I need to reach my goal and so supportive all the way!'
- Alana Lennard
'I love the variety Kelly brings to bootcamps, alot of exercises that work different parts of your body. I always feel like I've had a hard workout in the 50 minutes which is exactly what I'm looking for. Kelly is a great instructor who is strong and confident and knows her stuff'
- Joelene Frost
'I love Kellys enthusiasm for exercise, she is such a happy working person she always makes you feel good about yourself. Kelly and her team have catered for all my different goals from first losing my pregnancy weight to now strength training. Kelly, Amy and Sam know how to push you so you get the most out of your workouts, they listen to your goals and will cater your workout to suit, if I ever have a question about diet or training they are more than happy to help. I also love their Bootcamp class and would say its one of the best classes I've ever done'
- Andrea Clifford

'Kelly is a great encourager and instructor who will help you achieve your fitness goals faster than you think : ) Sign up with her and you know that your session wont be boring and you will see results. Thanks heaps Kelly'
-Kimberley Nicolson

'Kelly is the best trainer I have ever met! If anyone needs one, you need to see her! =) You will see results and I have achieved goals I never thought were possible. You're awesome kelz... love the work you do!!'
-Theresa Mika Moors

'I have been going to see Kelly once a week for about a year now. She is an excellent trainer and knows her stuff, very professional but makes a hard workout fun to do. I'm fitter and more toned than I have ever been and its all down to Kellys encouragement and dedication. Thanks Kelly'
-Sue McStay

'I have been training with Kelly now for three months. I love her personal training style, she mixes boxing training with cardio, free weights, pilates and swiss ball. I am really benefiting from the one on one training and have become a lot more toned. I find the training to be both fun and effective and Kelly to be very friendly and encouraging. She makes me feel good about myself'
-Lindsey Ward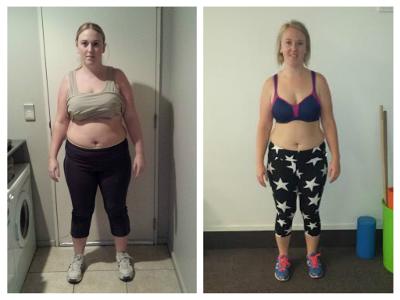 'I have been seeing Kelly at Bella Body for just over a year now, she has taught me how to eat well and live well. She has been there for me every week encouraging me to always do better. Kelly is very understanding and never puts pressure on you to be unrealistic with your life style choices.
I never get bored of my weekly work outs with her. Seeing Kelly has been one of the best decisions I've ever made for myself. I feel so healthy and happy within myself and it has brushed off onto my family members. I can't speak highly enough of her!
If your thinking of living a healthier lifestyle, want to be fitter or lose weight give Kelly a call, I promise it will be the best decision you will make'
Amanda
8 weeks in with Kelly working on exercise and nutrition, feeling and looking great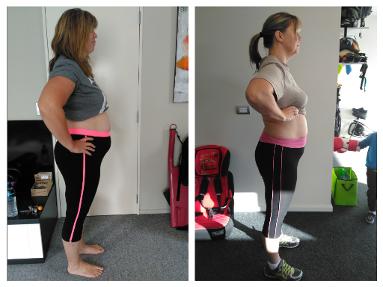 NEW YEAR NEW YOU CHALLENGE
I loved the challenge. My doctor couldn't believe it when he checked my blood pressure and it was normal after years of it being high! Not only did I enjoy the food but my whole family did too. It's great knowing exactly what to eat, the exercise plan was good and I enjoyed coming to the group classes.
-Sonia
Asides from the weight loss I also gained a huge amount of fitness and my core strength is so much better. The food was delicious and I'm definitely going to keep following the plan now that the challenge has finished.
- Tara
We loved not having to think about what we were eating for 10 weeks, it was great. Our clothes now fit better, we have more energy and Colin no longer has a sore back with having lost the weight. We are still eating from the meal plan.
-Linda and Colin
I'm only week 3 into the challenge and I'm feeling absolutely amazing and the weight is just falling off me. I've had people who don't know I'm on the challenge comment on my skin and how white my eyes are. Thanks for helping me get my act together.
-Leigh
I really noticed the change in the shape of my body and I felt so good within myself. I seemed more relaxed and my fitness levels have significantly improved. It was great knowing what we had to eat every day and if there was something you didn't like on the plan you were able to switch the days around abit. It's a great plan for the whole family. I enjoyed it so much I'm doing the challenge again.
-Sharron
I embarked on the challenge with trepidation but was pleasantly surprised at how easy the food plan was to follow and very yum!! Definitely has become a way of life now! The boot camps are awesome, everyone is catered for, whichever age/fitness group you fall into, you would be able to complete all the tasks set!
I am loving the change it has brought to my life! I am feeling fitter and much healthier!