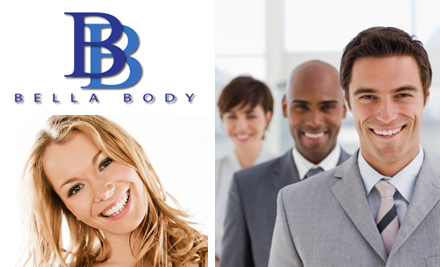 COSMETIC TEETH WHITENING
At Bella Body we can assure you will get instant results with our break through teeth whitening procedure that works at the speed of light. We use high quality dental grade products that are FDA - registered and meet the current NZ Teeth Whitening standards. Peroxide and Non Peroxide available. EU non peroxide teeth whitening is the safest whitening product in the world. Many dentists and non - dentists are now using this product as it gives impressive results. For a non peroxide product, we absolutely love it!!
COST
Peroxide and Non Peroxide Treatments
20 minute consultation and treatment - $129
45 minute consultation and treatment - $219
60 minute consultation and treatment - $279
60 minute follow up treatments are $149 within 6 months of your first treatment
(if your teeth are heavily stained you will notice a good difference from one treatment although for maximum results 2-3 treatments are recommended)
Gift vouchers, Wedding Partys, Group Bookings and Bride and Groom packages available.
Owner and Teeth Whitening Technician Kelly, has tried and tested several different whitening products after completing her training in the UK in 2007 and becoming an internationally recognized qualified Teeth Whitening Technician , she whitened hundreds of smiles in Europe and in the United States of America before returning to New Zealand to manage a Teeth Whitening company in Christchurch. Now owning her own thriving teeth whitening practice which was established in 2010 she has 2 other technicians on board who are also certified in Cosmetic Teeth Whitening and Beauty Therapy. "I have full confidence in the product we use, we follow all guidelines for NZ Cosmetic Teeth Whitening and after trialing so many different kinds of whitening formulas this whitening formula is truly the best out there, no sensitivity, no gum damage, and results are not only awesome but 100% guaranteed!" Kelly offers the EU non - peroxide whitening which is great for people with more sensitive teeth.
One of the first things that people notice when they meet someone is the look of their smile. Create a positive attitude for yourself and improve your appearance while achieving a more youthful look with your new radiant smile.
This is not a medical procedure and is a safe product. When observing good dental hygiene, results will last atleast 2 years.
COMFORT
The procedure itself is simple. The spectrum blue LED light is positioned so that it focuses its energy directly onto the teeth which are covered in the whitening gel. The light activates the gel achieving faster results. All you have to do is SIT BACK and RELAX.
CONVENIENCE
The process takes ONLY 20 - 60 MINUTES and is more effective than any other teeth whitening system currently available. It uses a combination of pulsed light, a whitening formula and a whitening accelerator to quickly and safely whiten your teeth.


A typical treatment will brighten your teeth up to twelve shades. People with heavily discolored teeth will notice a remarkable difference. Those lucky enough to have white teeth can achieve an even whiter smile with the treatment. The procedure will not harm dental work, but will remove stains and make crowns and veneers less noticeable.
Bellabody use Hydrogen Peroxide which has proved to give better results than Carbamide Peroxide. For clients with sensitive teeth the Non - Peroxide available is the better option.
The process is SAFE, EFFECTIVE AND PAINLESS.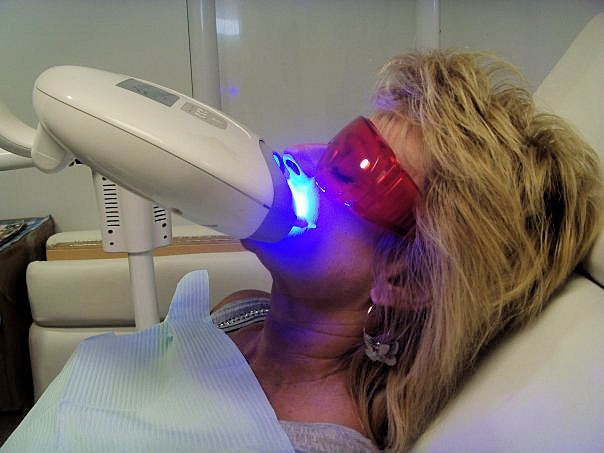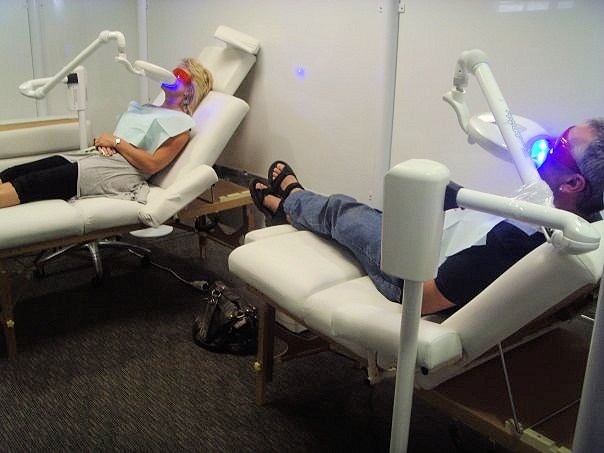 FAQs ABOUT TEETH WHITENING
Q. What causes tooth discoloration?
A. There are many causes of tooth discoloration. Some of the most common include aging and heavily pigmented food and beverages. More serious causes are excessive fluoride or tetracycline (antibiotic) consumption.
Q. How does teeth whitening work?
A. The active ingredient in the teeth whitening gel is hydrogen peroxide. The peroxide enters the tooth and safely removes stains by bleaching the enamel and dentin. We also have EU Non Peroxide treatments available also.
Q. Who should NOT undergo teeth whitening?
A. Any of the following -Pregnant or lactating women - People with periodontal disease including gingivitis or gums in poor condition. - People who wear braces - People who recently had oral surgery - People with decaying teeth or exposed roots - People with open cavities - People under the age of 14
Q. Who may benefit from tooth whitening?
A. Almost everyone. However, there are some cases where the treatment may not be effective. Tetracycline (antibiotic) discolorations and artificial dental work are usually not greatly responsive to dental bleaching.
Q. Are there any side effects?
A. After trialing several different products at Bellabody we have full confidence in what we use and very rarely have we had anyone have any side effects. The most common side effect from tooth whitening is tooth sensitivity and gum irritation. These symptoms are temporary and would disappear after the whitening treatment. Gum irritation can occur especially when using mouth guards in a treatment that haven't been moulded for your mouth, we do not use this process therefore have full confidence in what we do.
Q. Is teeth whitening safe?
A. Yes. Decades of research have proven bleaching to be both safe and effective.
Q. How long does the whitening last?
A. This depends on the persons habits and the porosity of the teeth. The results will normally last 6 months to 2 years. If you use a touch up pen your results will most definitely last 2 years.
Q Does everyone get the same result?
A. Results can vary from person to person depending on the type of stains on your teeth and also what the genetic tooth color is.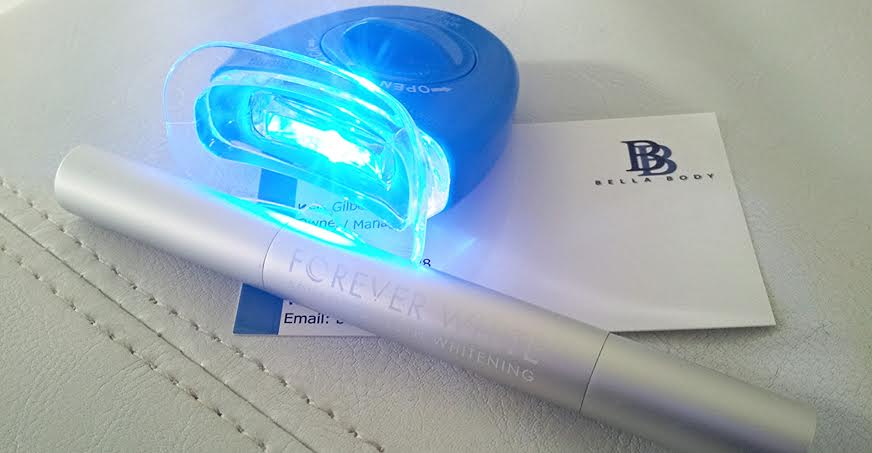 BEFORE AND AFTER PICS FROM 1 TREATMENT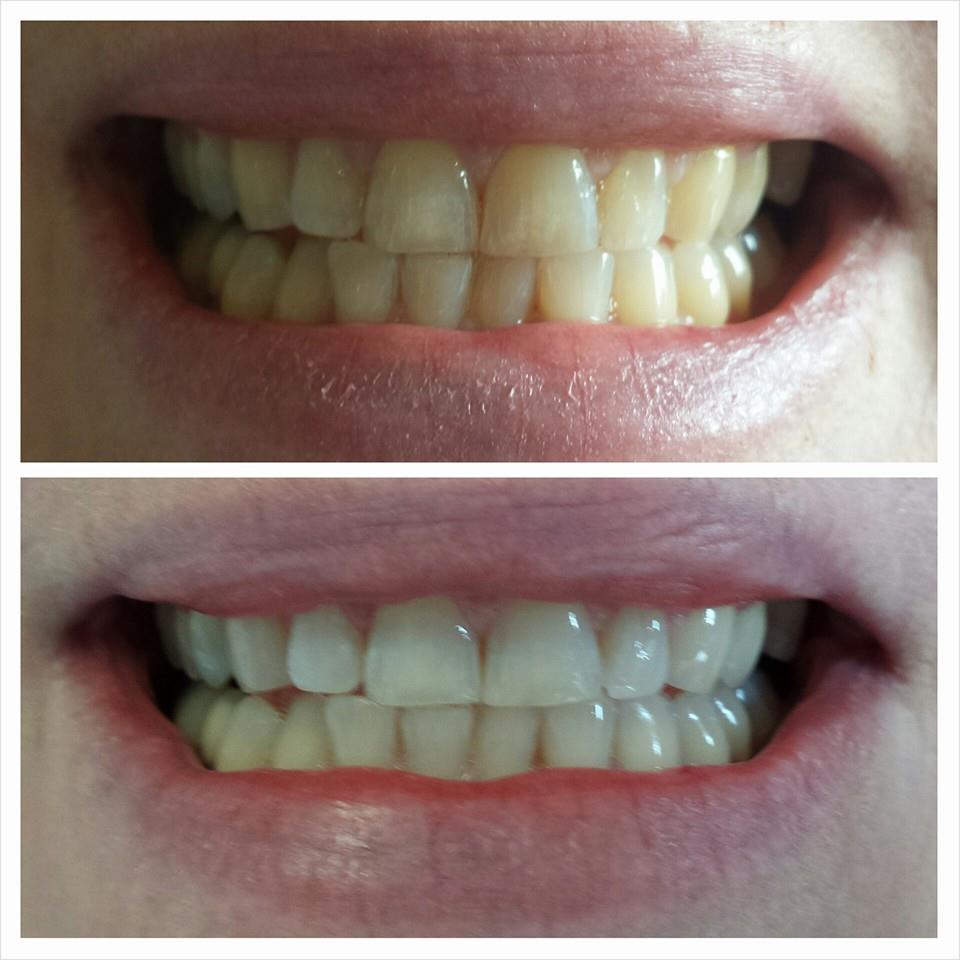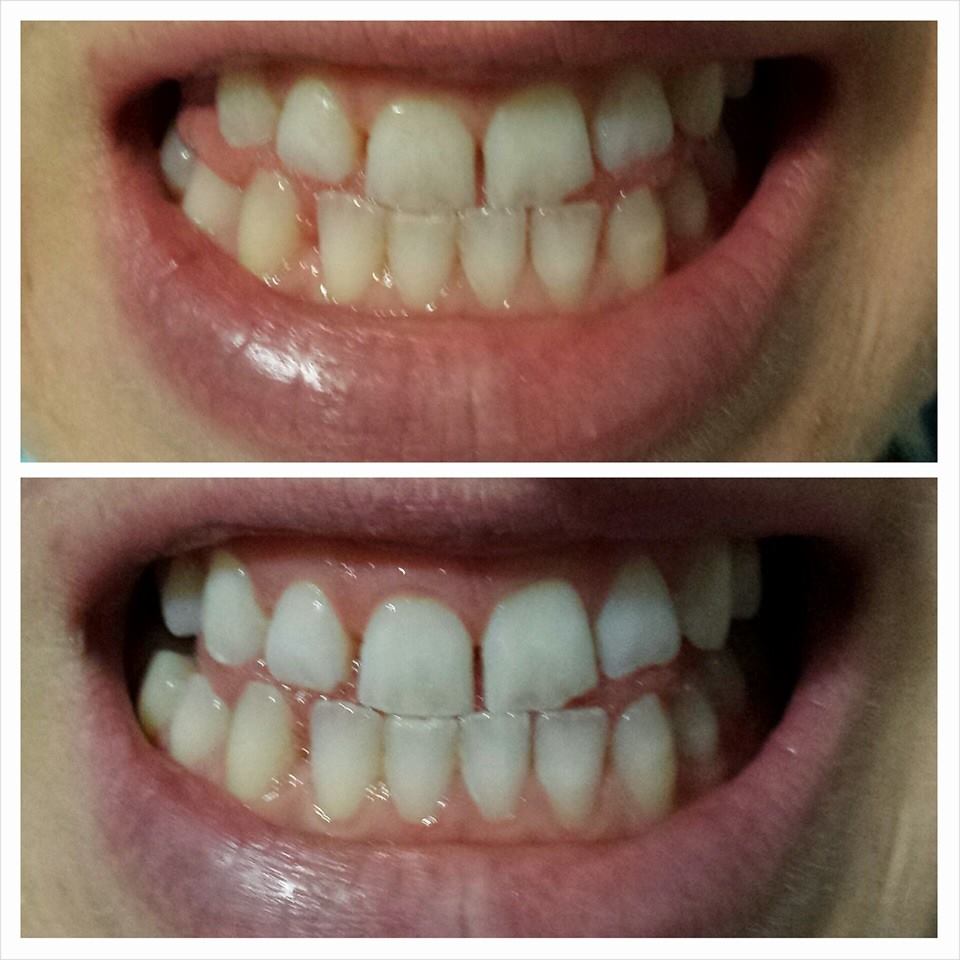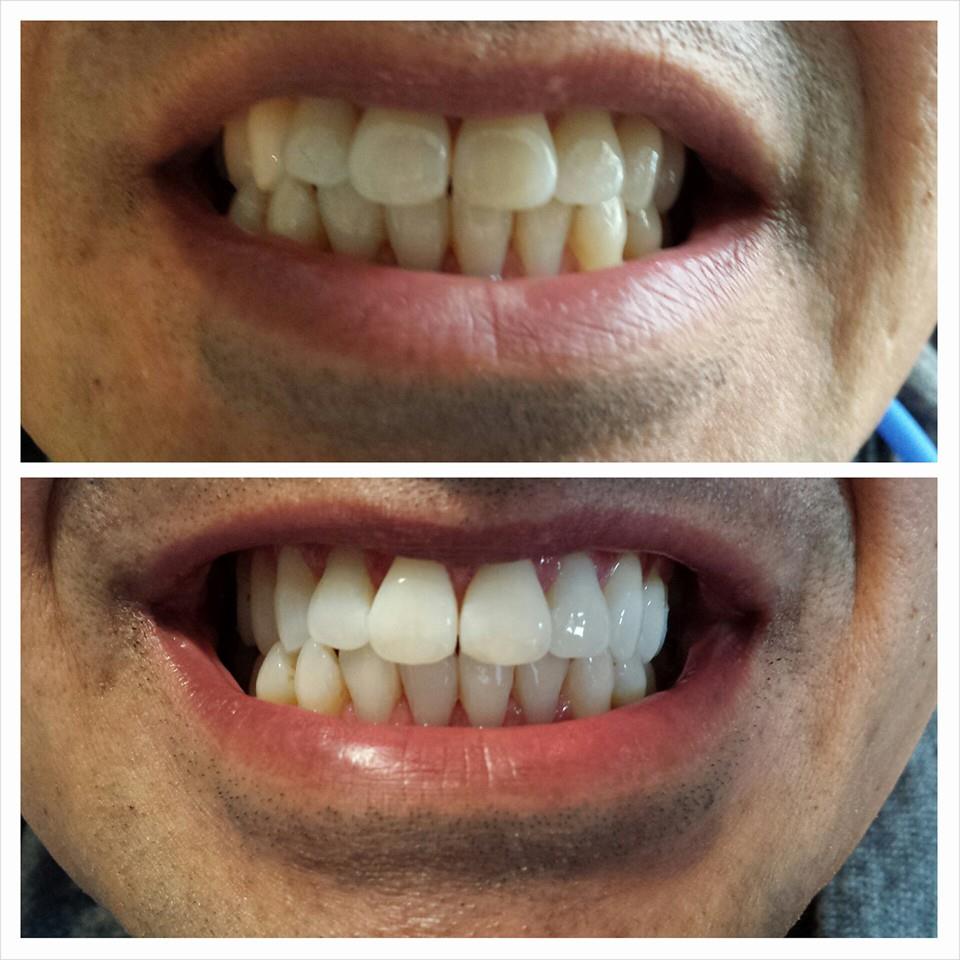 If you have any further questions or would like to book a Teeth Whitening appointment please contact Kelly
Mobile - 0210725870
Email - bellabody.chch@gmail.com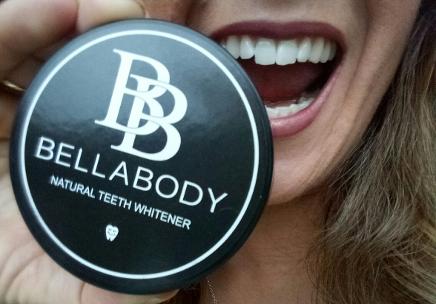 AFTERCARE / AT HOME TEETH WHITENING
Home care whitening products available.
Whitening pens - $59
Activated Charcoal - $29
AP24 Whitening Tooth Paste - $27 (Fluoride and Fluoride free)
Simple White Stain Erasers - $25
Simply White Stain Eraser
Simply White Stain Eraser erases and absorbs dental plaque to Maximize Whitening: Cleans teeth allowing whitening gel to better penetrate the enamel
Safe & Effective: Instantly removes stubborn stains without hurting tooth enamel
On-The-Go: Small and convenient. Easily cleans your teeth anytime, anywhere
Eco-Friendly: Moisten with water. No harsh chemicals
Each Package Includes: 2 Handles & 5 Refill Cleaning Strips
Directions: Moisten the white sponge strip. Brush each tooth individually up and down with the sponge. Gargle after using. Throw out the used sponge and refill for the next use
Recommended every 15-20 days to reduce dental plaque. Instant results can be noticed after just the first use. The amount of time to fully clean ones teeth depends on the degree of tartar and stains: Mild Tartar/Stains: 1 sponge can clean several teeth. Clean each tooth for 20 – 60 seconds Moderate Tartar/Stains: 1 sponge can clean 1 - 2 teeth. Clean each tooth for 1 – 3 minutes Severe Tartar/Teeth Stains: 1 – 3 sponges will clean 1 tooth. Clean each tooth 2 – 3 times to remove the tartar
Best results for stained yellow, brown and black teeth, caused by coffee, tea, smoking, red wine and other staining habits.
How does it work?
The Patented Nano Tube Technology is an innovative new teeth cleaning product. The sponge strip is composed of super tiny particles that are one-hundred-thousandth of hair. Once moistened, the high-tech melamine sponge forms into thousands of nano capillaries, which turn into a special 3D structure with super absorption capacity. The sponge can then easily and effectively scrub off and absorb dental plaque and stubborn stains from the tooth surface.